If you are new to retailing posters, then the first thing you must decide is what kind of posters do you want to offer. The basic choice is between non-laminated and laminated.
Non-Laminated Posters.
The big advantage is that they sell for less, both wholesale and retail. Some mail order and Internet prefer them because the customer cannot physically see the quality of what he or she is buying. This provides the retailer with the opportunity for larger markups in terms of percentages. Frame shops favor them because they want the framing business. They are often used for promotional purposes.
Laminated Posters
Our posters are totally encapsulated in heavy 3 mil plastic, to provide protection and permanence. This "value added" results in higher prices.
Laminated posters are a must for the educational market as kids cannot destroy them as they can paper posters. In fact, teachers tells us that they put them on the floor and let young children crawl all over them.
Over the past few years, more and more of our brick-and-mortar retail store customers have switched over to laminated posters. Their buyers consistently tell us that their customer sees a paper poster as something that can be easily destroyed, thus it is a disposable short-life "throw away" product. On the other hand, they see that our heavy lamination will have a very long life. The consumer takes into account total cost. Our posters are really big (2 x 3 feet). Even a simple stock frame from discounters like Wal-Mart and Target cost $35 to $50. Custom frames cost at least $150. The heavy lamination precludes the need for a frame. Thus even though a laminated poster may cost him or her more, the consumer sees the additional cost as being more than offset by the many advantages.
Many of our retail customers who have historically sold only non-laminated posters have tested the laminated ones. In almost every case, they found that sales increased significantly, often by as much as 50%. Since the laminated posters carry much larger margins, they turned out to be far more profitable. Almost all have switched over to laminated. Laminated posters now account for over 75% of our sales. This reflects their great popularity.
We recently introduced two packaging styles: Jumbo and Deluxe. They make it easy for retailers to now offer both laminated and non-laminated posters. For more information, see below.
Feenixx Posters are available in five styles.
Flat (Unpackaged)
No packaging. Posters are shipped to you flat or rolled., depending on the quantity. They are great for mail order companies as they can roll several posters together and ship them in a smaller box. That reduces shipping costs. Excellent for frame shops as they want the framing business.
Standard Packaging
The poster is rolled, inserted into a 1 inch diameter poly-vinyl tube, designed to fit into flip-page merchandiser cabinets. Standard posters have two labels. The main label shows a photo of the poster so that customer is sure that he or she has the right one. It has a large, easy-to-read UPC bar code. A second label is placed at the end of the tube, making it easy to find it in a flip-page merchandiser.

Typical Standard Packaging Label.
Laminated
The poster is completely encapsulated in heavy 3 mil plastic. This makes it extremely durable. These are a must for the educational markets.
Deluxe Laminated Posters
Our heavy laminated posters are rolled and inserted into a 1.5" x 24" transparent soft vinyl plastic tube. This larger tube size provides adequate space for a huge 4" x 5" label. It is used to show a large picture of the poster, accompanied by descriptive text. (see below). the transparent tube lets the customer see the quality of the poster.

Deluxe Posters come with a self-adhesive hang tab

The large display label results in a self-contained package that frees the posters from being confined to a central merchandiser. They can just as easily be placed in a bin or box just about anywhere you want. But we've taken that one step further. Both of these new packaging styles come with easily applied self-adhesive hang tabs. This permits the posters to be hung on pegboard and slat wall hooks. This, in turn, gets them out of bins and lets them be displayed on walls along with subject-related merchandise, such as books, magazines, toys, animal replicas, nature specimens, etc. We don't know how you will merchandise the posters - bin on hook - so we simply include them with the posters. It's entirely up to you to decide if you will use them or not
These new styles offer great flexibility in merchandising. Posters can now be easily offered on free-standing displays used in connection with promotions or exhibits. They are great for small stores that may want to carry only a few selected titles and thus cannot justify the expense and space requirements of a merchandiser. Posters can also be offered in kiosks and even on magazine stands.
They offer oneother advantage that has never before been available. Because of merchandiser restrains, retailers have historically carried either laminated or non-laminated. Each of these packaging style has a unique UPC number, permitting retailers to easily carry both. This mean that you can carry the non-laminated Jumbo posters for the price conscious consumer and the laminated Deluxe posters for the value conscious one.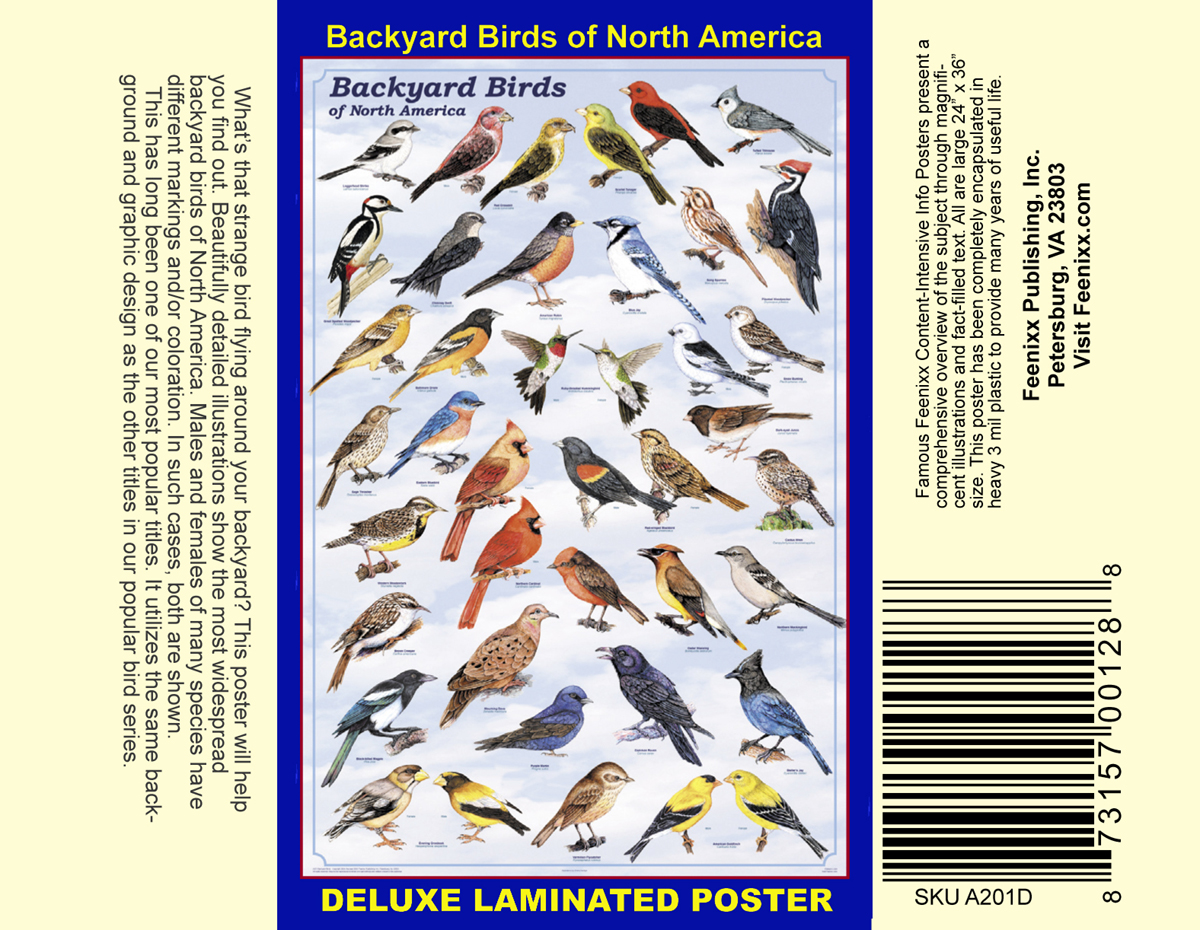 Large labels used with Deluxe (laminated poster) packaging
Jumbo (non-laminated) label is identical except for different border color, product specificaions
and bar coded UPC number.
Stock Numbers - SKUs
All Feenixx posters carry a basic four digit stock number, a letter followed by 3 numbers. For example, Mammals is A151. To indicate the style that you want, add one more letter
| | |
| --- | --- |
| A151F | Add "F" for Flat |
| A151S | Add "S" for Standard |
| A151L | Add "L" for Laminated |
| A151D | Add "D" for Deluxe |
UPC Bar Codes
Standard, Laminated, Deluxe and Jumbo posters each have unique UPC numbers and come with bar code labels.
Easy Data Entry
Feenixx customers can download a spreadsheet listing SKUs and UPC Numbers from this web. Password protected to prevent unauthorized use. Email us for the password.