Feenixx Poster Hangers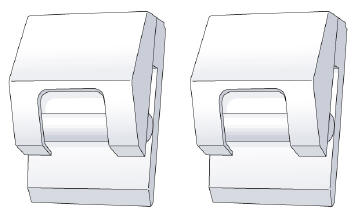 These are wonderful little merchandising aids. A double-stick adhesive pad is on the back. Remove the backing and stick on any smooth surface, including glass, Formica, slate wall, masonry, wood paneling, etc. Easily removed with no damage to underlying surface.
Unique gravity-operated movable roller permits poster to be quickly slipped into place. Simply push the poster into the hangers, the rollers lock into place. To remove the poster, simply push the rollers up and the poster falls out undamaged. Much better and neater than tape.
We recommend using these with our laminated posters, as paper posters have a tendency to curl. Use them to display posters in otherwise dead spaces, like along side walls above the shelving. Our beautiful posters enhance your decor while promoting their sale.