Bird Orders - biological groups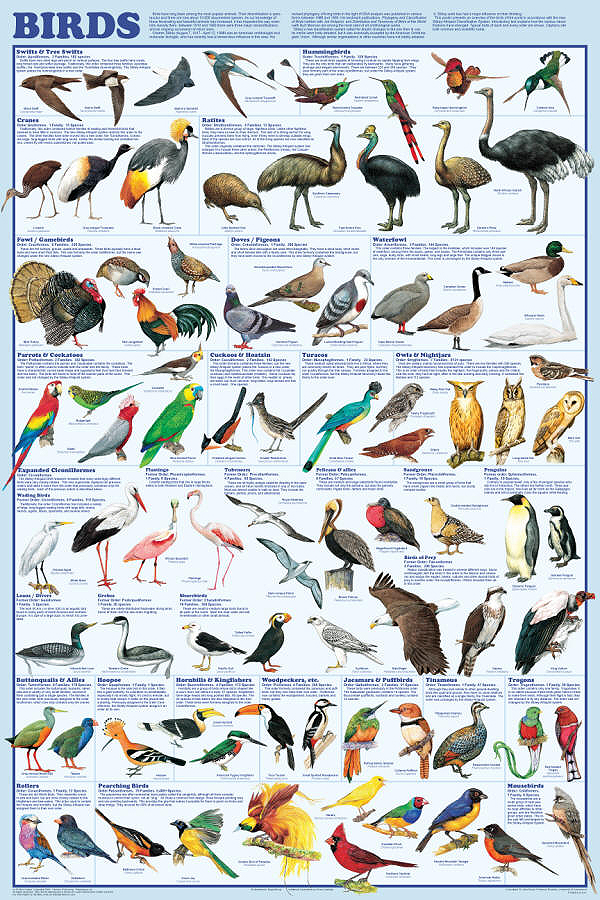 A152 Birds

This is an especially important poster because it presents the new Sibley-Ahlquist bird classification system. Based on recent DNA studies, this system uses cladistics to reconstruct the evolutionary family tree. Who would have thought that birds as diverse as flamingos, eagles, and penguins would end up in the same clade? However, this revolutionary new system has been widely accepted by North American ornithologists and has made the previous bird classification system obsolete. Although this poster shows true clades, the scientific community continues to use the order names, which are cited.
This is a truly beautiful poster, one greatly appreciated by bird lovers. It certainly enhances the decor of their home or office, yet it presents information that has even greater value. All the bird clades are explored, and all of the many classification changes resulting from the transition from orders to clades are explained. This information has never before been published in such a concise and convenient form, making this poster an essential reference for anyone seriously interested in birds.
Vertebrate Orders

This is one of the four posters in our vertebrate orders set. They provides a comprehensive overview of the living vertebrates. Animal life is now undergoing the transition from the Linnaeus classification system to the new cladistic classification system. Birds have been reclassified under the new system. There have been many systems proposed for the other animals, but none has been widely accepted. This required that the posters present the animals in the context of their existing Linnaeus orders. Each of these posters present all of the orders within the group. There are so many marsupials and cartilaginous fish that they are presented as super orders.
Each order is introduced by the common name or names (such as whales, dolphins and porpoises), followed by the biological name (Cetacea), the number of species, and a brief description. A great many representational animals are beautifully shown, all identified by both common and biological names.
This is the first time that a comprehensive overview of this enormous and complex subject has ever been presented on posters. This set is invaluable for life science classes and anywhere else that the study of animals takes place.